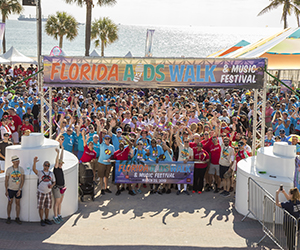 SunServe
Welcome to our Florida AIDS Walk Team Fundraising Page!
Hello, and thank you for visiting our Florida AIDS Walk team webpage! We've decided to come together to fight AIDS, and on Saturday, March 21, we will participate in a 5K fundraising walkathon along Fort Lauderdale Beach. Join us for an amazing day!
While HIV and AIDS have fallen out of the spotlight in recent years, the epidemic is far from over. An estimated 1.1 million people in the US are living with HIV, and 15% of them don't know it.
Florida AIDS Walk works to bring attention to this pressing issue, educate and inspire our community to work together, and end the epidemic once and for all.
We walk for over 100,000 people living with HIV in Florida. We walk to remember those who no longer can. We walk to remind you that you're not alone. We walk for a nation. We walk for change.

Please join our team. Together, we are making a difference!
View More

Team Honor Roll
HG Charitable Foundation / M. Rhodes
$60,000
Ken Hollander and John Kardos
$50,000
Ken Flick and DC Allen
$20,000
S Schapiro & J Adruino
$10,408
David l Webb and W Lynn McLaughlin
$10,000
Jay Roberts & Ray Bennett
$10,000
Dick Schwarz & Tom Massey
$10,000
Wilton Onesie Wonderland
$6,000
Take Shape Plastic Surgery, PA
$5,000
Quick Tricks Duplicate Bridge Club/James Miller
$4,000
First Data Corporation - Coral Springs
$3,000
The Campbell Foundation
$2,000
Auctioned Items at benefit.
$1,517
Robert Coward and Bradley Jones
$1,000
Marchinares Family
$1,000
Top Donors
HG Charitable Foundation / M. Rhodes
Ken Hollander and John Kardos
Ken Flick and DC Allen
James Laird
S Schapiro & J Adruino