Festival Line-up
The 2021 Florida AIDS Walk & Music Festival will feature: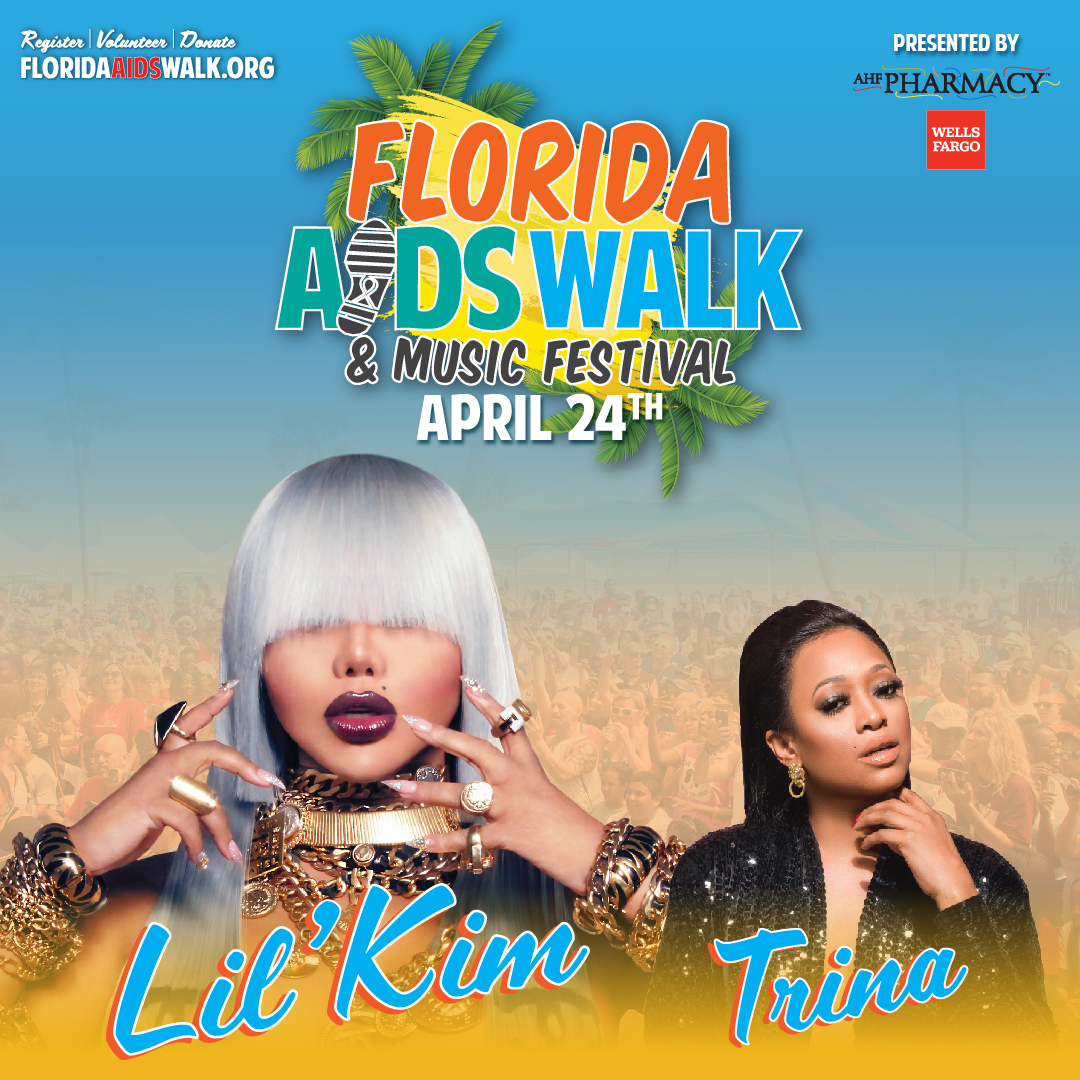 and pre-Walk entertainment from DJ Alex Ferbeyre
Artist Bios
LIL' KIM
Born Kimberly Denise Jones, Lil' Kim is a Grammy Award-winning, multi-platinum rapper, singer, actress, and fashion icon. Her debut studio album Hard Core was certified Double Platinum by the Recording Industry Association of America (RIAA) and spawned three consecutive No. 1 rap hits: "No Time," "Not Tonight (Ladies Night remix)," and "Crush on You," making Kim the first female rapper with three consecutive number one singles on Billboard's Rap songs chart. Her following albums, The Notorious K.I.M. (2000) and La Bella Mafia (2003), were certified Platinum, making her one of the only female rappers to have at least three consecutive Platinum albums.
She also scored a #1 Billboard Hot 100 hit with 2001's "Lady Marmalade," featuring Christina Aguilera, Pink, & Mýa. As an actress, Lil' Kim has appeared on television shows such as Moesha, The Game, and her own reality series Countdown to Lockdown, which, at the time, had the highest-rated premiere in BET's. She appeared in her first major film, She's All That, starring Freddie Prinze Jr. and the late Paul Walker, which reached #1 at the box office during its first week of release. She then went on to appear in Zoolander, Juwanna Man, Gang of Roses and You Got Served. Additionally, in 2009, Lil' Kim danced her way into the hearts of millions on ABC's Dancing with the Stars. She was undoubtedly a fan favorite on the eighth season of the hit show.
In 2015, Lil' Kim shut down the BET Awards along with Puff Daddy and The Bad Boy Family for the Bad Boy reunion performance. The crowd stood to their feet in a thunderous applause as she annihilated the stage, stealing the show with her performance of "It's All About the Benjamins."
In 2016, she released her mixtape entitled #LILKIMSEASON which included the first single "#MINES," featuring hip hop recording artist Kevin Gates. That record caught fire, earning Lil' Kim a nomination for best female rap artist at the BET Awards that year. In May 2016, she performed two nights in a row at the Barclays Center in her hometown Brooklyn, NY for the Bad Boy Reunion Tour, and was credited by influential station HOT97 as one of the best performers both nights. She continued to travel around the country on that tour, and was also honored in 2016 at VH1 Hip Hop Honors.
As celebrities like Rihanna, Kim Kardashian, Solange Knowles, Kylie Jenner and many others continue to pay homage to the one and only Queen Bee, Kim has continued to create music. In 2017, Kim began working on her highly-anticipated 5th album, due out in late 2018. She thrilled fans by releasing the promotional singles "Took Us A Break," in November 2017 and "Spicy" feat. Fabolous in March 2018. In June 2018 Lil Kim received a proclamation to New York City. The legendary artist was honored by the New York City Council's Black, Latino, and Asian Caucus (BLAC) as part of the annual African-American Music Appreciation Month that begin June 2018 for her contribution to hip hop.
She released the official single, "Nasty One" in July 2018, followed by "Go Awff,' in April 2019. Her new album "9" will be released this summer. With this flurry of new music and reverence from her peers and fans alike, Lil Kim continues to REIGN!
TRINA, THE LEGEND
Platinum Recording Artist, Trina, continues to be a catalyst in Hip Hop since her introduction into the music arena in 1998. With 19 years of consistent, trendsetting deliveries as an entertainer; Katrina "TRINA" Taylor embodies the essence of a female emcee who has grown continuously as the industry has. She embraces her musical height in her latest album entitled "The One." To honor her depth in her musical journey and love for Miami; Trina was awarded by the city of Miami by revealing a "Trina" day in the city on May 15, 2017. This recognition was for her continued commitments in the community and for her career reign for the last 19 years. The platinum recording female emcee has graced countless red carpets, editorials and the television screen. To date, Trina has released six studio albums, five EPs, and eleven mixtapes projects since her introduction into Music.
Executive produced by Grammy Award winning producer/songwriter, Rico Love, the compilation reflects the natural raw essence that only Trina can deliver with a heighten side that is revealed charismatically in songs such as "Dear Mama," which is a dedication to the emcee's mother and world. The track depicts a candid remake of Tupac Shakur's infamous track, yet with a twist that only The Diamond Princess can give effortlessly featuring Kelly Price. Trina continues to channel her reign as the original "Baddest Chick," with the her trendsetting anthem for women entitled "If It Aint' Me" featuring the talented K. Michelle as the vocalist. The single depicts an elusive melody with dynamic lyrics from the female emcee portraying betrayal in love. The visuals exhibit this same notion featuring east coast native, Dave East as leading male who is caught cheating on Trina. K. Michelle delivers strong vocals over the beat, and the ladies display a fierce chemistry in the visuals for the ladies to love.
The album features other musical talent to include Nicki Minaj, DJ Khaled , Sevyn Streeter, Molly Brazy, Tokyo Jetz, 2Chainz, Lil Wayne, Dave East, Plies, Rico Love, and Lil Boosie just to name a few.