Event Info
The Florida AIDS Walk & Music Festival is a great way to give back to your community. Come together for a 5K walk and an epic concert!
Proceeds raised from the walk and festival go to local AIDS service organizations who fight to end the epidemic in their communities every day.
South Beach Park on Fort Lauderdale Beach
Saturday, April 24, 2021
Schedule for the Day
8:00 am registration opens
9:30 am pre-event ceremony
10:00 am walk
10:45 am live music starts
Show Line-Up
Here's the order of performers for the festival:
DJ Alex Ferbeyre
Trina
Lil' Kim
Make absolutely sure to bring your camera or phone. Tag all your social media posts with #FAW and #FAW2021. Follow us on Facebook and Instagram.
Event Map
Click below to expand or print the map.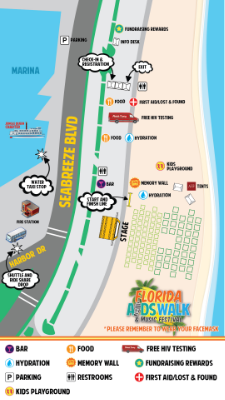 Important Safety Information
We are taking safety very seriously. We have a COVID safety plan in place that has been reviewed and approved by Broward County and the City of Fort Lauderdale, and our ability to hold this event in 2021 and in the future depends upon the cooperation of all participants in following these guidelines.
If you are experiencing any symptoms of COVID-19 or may have been exposed to someone with COVID-19, please do not attend the event. Visit the CDC's website for more information about coronavirus symptoms.
There will be distanced viewing boxes for each pod of participants during the ceremony and music festival. These boxes accommodate 1-4 people, or 5-10 people. Your group of up to 10 people will need to arrive together and will choose your pod area.
Participants will be released to the walk route from their viewing boxes.
Participants will need to wear face coverings throughout the event at all times, unless eating or drinking. Stay tuned for details about our "coolest mask" social media contest. Just because we're covering our faces doesn't mean we can't have fun with it!
Participants will need to follow social distancing and other health guidelines posted on-site.
Hand sanitizer will be provided at the festival and water stops. Please make use of it.
Participants should avoid physical contact (hugs, high fives, etc.) with people outside of their group.
Failure to comply with safety measures may result in participants being asked to leave the event space.
Allowed/Prohibited Items
What to Bring: Face covering, sunblock, sunglasses, ID, comfortable shoes, your fully-charged phone and/or camera, and a credit card for food & drinks
Do Not Bring: Wagons, pets, coolers, beach umbrellas or picnic baskets STRICTLY PROHIBITED: Weapons, Glass, Outside Alcohol, Drones
Parking and Transportation
To help you avoid Spring Break traffic on A1A, we have a variety of ways for you to get to the beach, including parking shuttles and other forms of transportation.
Parking Options:
Free parking & shuttle from the Galleria Mall (Lime Parking Lot) directly to the event site. Pickup and drop-off will take place at the corner of NE 26th Ave. & NE 9th St. on the back side of the mall. Map

First shuttle will depart the Galleria at 8:30 am
Last will depart the event site at 2:00 pm

$ Varied Rates — Las Olas Garage 200 E. Las Olas Circle Fort Lauderdale 33316
City of Fort Lauderdale Parking Rates
$20 — B Ocean Resort Hotel
1140 Seabreeze Blvd. Fort Lauderdale FL 33316
$15 — Hilton Beach Resort
505 N. Fort Lauderdale Beach Blvd. Fort Lauderdale FL 33304